Products ► Torque ► Advanced Torque Sensors ► High-Speed Torque Measurement
High-Speed Torque Measurement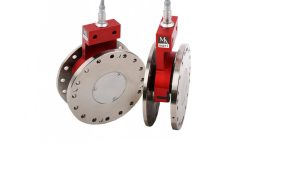 High-Speed Torque Measurement –in the Versions of 200 N·m, 500 N·m, 1 kN·m and 2 kN·m
By continuously advancing the design and implementation of sensors for turbines and turbocharger test stands, MANNER has acquired highly specialized expertise over the last 15 years, ranging from mechanical design to high-precision torque measurements at high ambient temperatures of up to 160° C and, of course, its contact-free transmission technology – sensor telemetry.
The range includes:
200 Nm
500 Nm
1 kNm
2 kNm
and is available in the following speed standard versions:
27.000 min-1
55.000 min-1
The optional hollow shaft supports complex test stand set-ups. Oil supply at the centre or actuator systems is not a problem.
Finally, we are open for customer-specific flange geometries with individual connection. This can be decisive for the shaft dynamics. Solutions in high-reduction gearboxes can also be implemented due to the high temperature resistance.
The high-precision torque measurement for new e-mobility test bench concepts features the following characteristics:
Design with decoupling of parasitic forces like bending moment, lateral forces and axial force
Accuracy classes from up to 0.05
Temperature range of -45 to +160°C
Maintenance of accuracy over the entire temperature range through electronic compensation
Integrated speed measurement
Oil-proof
Data output: Analog or EtherCAT, CAN and Ethernet possible
A particular challenge with test stands for electric motors is the increased and continuously changing ambient temperature. As is well known, the modulus of elasticity of a measuring body changes over temperature by approx. 2.5 %, which is quite significant. Furthermore, there is a speed-dependent error of the zero point at these speeds.
To overcome these challenges, MANNER has developed temperature- and speed-compensating torque sensors that ensure consistent, high accuracy for the entire operating range.
The acquired torque values are digitised within the rotor to allow contactless digital transmissions to a signal pick-up device. An integrated signal processor in the processing unit converts, in real-time, the raw data for the measured profile into compensated values. This process is based on the measurement of the measuring body temperature and the speed. In modern test stands, the acquired data are typically transmitted digitally via EtherCAT, CAN or Ethernet to the test stand data collection system.
---
HS-Torque with Tube-design Evaluation Unit for Installation in Control Cabinets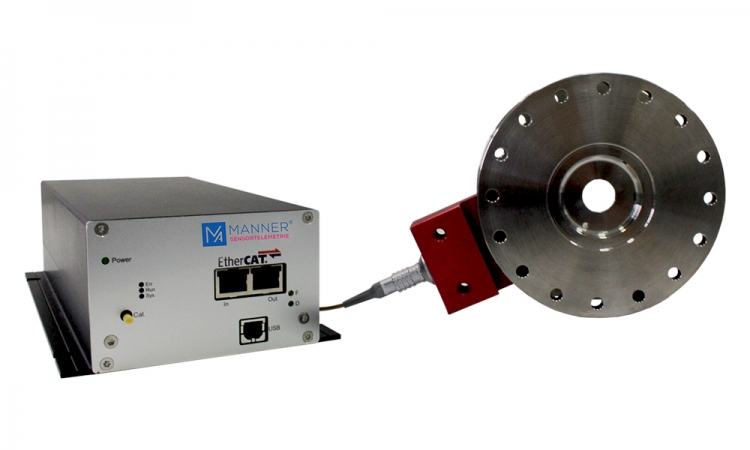 High-Speed Torque Evaluation Unit
The sensor quality is monitored through an air-conditioned calibration rig with ambient temperatures from -40 to 160 °C. Rotational speed testing ensures that the sensor is controlled independently from rotational speed.
For standard applications we recommend the HS-Torque range. The high nominal speeds of up to 40.000 min-1 are no challenge for the HS-Torque design. HS-Torque sensors have been used in turbine testing successfully for over 18 years.