Products ► Torque ► Advanced Torque Sensors ► Model XtreMA "Two-in-One"
Model XtreMA "Two-in-One"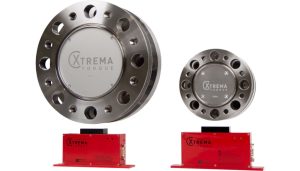 Description
The XtreMA "Two-in-One" has two separate independent signal outputs. Both measuring ranges, nominal and spread, are optimized in terms of accuracy.
Two calibrations with corresponding calibration protocols are created for the transducer to be evaluated. The zero point drift Tk0 and also the characteristic value drift Tkc over temperature of both channels are minimized to the respective measuring range.
This allows the XtreMA "two-in-one" to be used over a much wider torque range with the highest accuracy and resolution. The user can decide which channel is used for the corresponding measuring task.
The tasks of nominal torque measurement, as well as friction power measurement, can be solved without modifications in the drive train using a measuring device. This saves time, costs and minimizes the risk of making mistakes. The accuracy of our transducers is proven by our new calibration laboratory – which is certified according to DAkkS.
This new transducer is tough.
Due to an overload design of 400% of the nominal measuring range, the torque sensor is suitable both for measuring continuous loads and for detecting peak loads from load peaks in dynamic operation.
Despite this new technology, the stator antenna remains compact and has the familiar design with an air gap to the rotor of up to 10mm.
In the standard version of the XtreMA "two-in-one" the evaluation unit is available with 2 analogue outputs with ±10 V or two frequency outputs with 60 kHz ±30 kHz, other versions are optionally available.
Optionally and with an appropriate configuration of the complete system, the range between the "two-in-one" and the stator antenna can be increased up to 50mm.
The modular system allows free selection and configuration of the evaluation unit. The XtreMA "two-in-one" can be operated with the compact XtreMA evaluation unit as well as all other designs and configurations. A remote stator antenna as well as the tube version with or without integrated stator antenna is possible.
In the tube version, the power evaluation unit or the table-top version, in addition to the classic analog signals with 0. ±10V / 4..20mA or the frequency output, the output of digital signals via EtherCAT, CAN, Ethernet, or USB can be realized.
As an add-on, a speed measurement can be added at any time. This speed measurement can be realized in high resolution, as single track or with track A/B as well as with one pulse/min.