Products ► Flow ► Electromagnetic Flow Meters ► Model FLONET FR10xx
Model FLONET FR10xx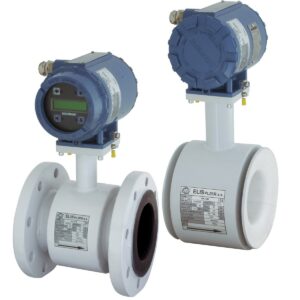 Product features:
Wide range of dimensions: DN6 to DN1200 (1/4″ to 48″)
Ability to measure in demanding applications (aggressive liquids and fluids with a high content of mechanical parts). For these special applications, the possibility of using the excitation frequency of the measuring sensor up to 30 Hz.
Lining soft or hard rubber, Teflon
Bidirectional measurement with direction indication
Possibility of compact or remote design of the flow meter and IP68 protection
Measurement of liquid flow at temperatures up to 150°C (302°F)
Use of almost all types and materials of flanges, wafer connection
More posibilities of the power supply
Self-diagnostics and high reliability
HART communication or Foundation FieldBus
---
Description
Electromagnetic flow meter FLONET FR10xx measures conductive aggressive liquids and liquids containing some abrasive parts. Uses HART or Foundation FieldBus communication. Flow meter with Rosemount evaluation electronics. It measures the flow of only conductive liquids, focusing on demanding applications with the measurement of aggressive liquids in the chemical industry and in water and heat management.