Products ► Force / Weight ► Wheel Load Scales ► Model RWA 8.1.0 E
Model RWA 8.1.0 E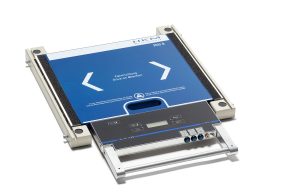 Product features:
Internationally valid verification
Low design
Nominal load up to 500, 1.000, 2.000 or 8.000kg
High accuracy
Rubber feet to prevent slipping during mounting
Optionally available with ramps
Optionally non-verified scale RWA 8.1.0: factory calibrated, ISO or DakkS calibrated for applications not subject to official verification
---
Description
These verified wheel scales are specially designed for quick, precise weighing of vehicles and trailers in mobile applications. Each scale is equipped with a display and operation module and is powered by rechargeable batteries. These scales can be used to realise weighing operations for commercial and official use. The scales are easy to transport, set up and operate.
---
Application:
Checking of vehicles by police
Checking of weight by certified inspection organisations
Vehicle approval for new and modified models