Products ► Inclinometers ► Model NA2-05, NA2-10, NA3-30, NA4-45, NA4-70

Model NA2-05, NA2-10, NA3-30, NA4-45, NA4-70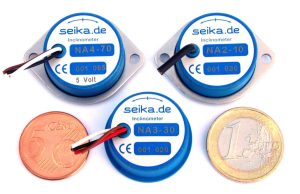 Product features:
Small size light weight
Linear output response
High measurement accuracy
Small zero drift
Small cross sensitivity
High long term stability – virtually infinite lifespan
Hysteresis-free output signal
Integrated sensor electronics including signal conditioner and low-pass filter
No data memory with memory loss
Temperature compensated, conditioned 0…5V output signal
Highly stable internal voltage regulation
Optional 5 Volt reference voltage output
Unconditioned operating voltage between 9V and 30V
Low power consumption
Protection against reverse supply voltage polarity
EMC certified CE certified
No interference by surrounding electromagnetic fields
Shockproof as without moving mechanical parts
Hermetically sealed
Sensor electrically isolated from point of measurement by high quality plastic housing – no ground connection
Zero point adjustable through 360° using clamping ring
---
Description
The capacitive, dielectric liquid based inclinometers NA2-05, NA2-10, NA3-30, NA4-45 and NA4-70 contain new sensor electronics. These are made up of a highly stable, laser-trimmed signal conditioner with electronic compensation for temperature drift, highly stable supply voltage regulation circuitry and low-pass filtering of the measurement signal to eliminate unwanted noise.

The capacitive measurement principle guarantees a very stable, linear relationship between the inclination being measured and the normalised output signal.

The sensor electronics require minimal power and, together with the capacitive primary transformer, are characterised by low errors, high signal-to-noise ratio and high long-term stability.

Contrary to measuring inclinations using accelerometers, this measurement principle enables a linear relationship between the inclination to be measured and the output signal, independent of the constant of gravity at the place of measurement, i.e. Independently of where the measurement is taking place, whether in Europe, Australia, on Mount Everest or the Moon.
---
Application
The NA2, NA3 and NA4 can be used for measurements requiring small and light devices, replacability, measurement of relatively large inclinations and a normalised, analogue voltage output signal.

Measurements of inclinations in measuring instruments and inspection equipment, in water, land and air vehicles, in automation and safety technology, on cranes and lifting equipment, on robots, in the manufacture of scientific equipment, in medicine and telecommunication as well as navigation systems are typical examples.
---
Enclosures (4-20mA, ±10V):
| | | |
| --- | --- | --- |
| Enclosure Model SB1I – One Sensor | Enclosure Model SB2I – Two Sensors | Enclosure Model SBG3I – Three Sensors |