Products ► Instrumentation ► Bluetooth Telemetry ► Model B24-SSB
Model B24-SSB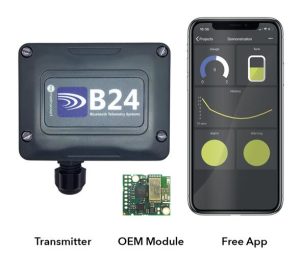 Product features:
Wide sensitivity input – choose from +/- 6mV/V, +/- 12 mV/V, +/- 24 mV/V, +/- 48mV/V
Noise free resolution up to 110,000 counts (16.75 bit)
Up to 3 months of continuous use at three samples per second.
Monitor up to 12 transmitters by a single device, or multiple devices
Ideal for close range monitoring up to 90 metres (295 ft)
---
Description
Designed to build measurement systems for hands-on, user friendly access. The B24 Bluetooth system provides close range strain (input) measurements via phone or tablet for instant interaction with data and projects. Connect to up to 12 sensors to a single or multiple mobile devices.
Remarkable power efficient electronics offer wide input sensitivity. Available in either 'C' style IP67 enclosure with integrated battery holder for ease of integration or bare board format allowing the mmodule to be built into OEM applications.