Products ► Instrumentation ► Digital Output Signal Converters ► Model DSJ4
Model DSJ4
Accessories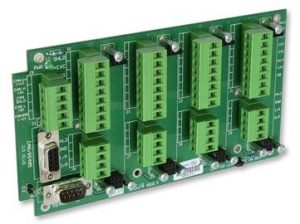 Product features:
PCB only – for housing 4 x DSC digital load cell converter cards
Bus connections for communication and power supply
2 part connectors for field terminals
LED power indicator
CAN compliant – option
Option of a waterproof IP65 enclosure NEMA4 bulkhead mounting in grey ABS or stainless steel case
---
Description
The DSJ4 mount board provides a convenient package that makes interconnection and field mounting of 4 x DSC modules quickly and easily.
The DSJ4 has options for bulkhead, surface or DIN rail mount housing for 4 x DSC digital load cell converter cards. Designed for use with strain gauge sensors such as pressure transducers, load cells and torque sensors, the DSC family offers high speed, high precision signal converter capabilities.
Available output formats include RS485, ASCII, Modbus, MantraCAN (J1939). Please Note: MantraCAN products will only work with Mantracourt software up to and including Windows 10.
For one input channel, model DSJ1 provides connection to a single DSC to a common communications bus. Several DSJ1's or DSJ4's can be connected to the same bus for distributed applications (except when using RS232).
For mounting internal to the sensor, the same electronics are also available in a compact miniature format and is known as the DCell embedded digital load cell converter module.
Note that model DSJ4 is the designation of the printed circuit board complete with the connectors but DOES NOT INCLUDE the DSC load cell interface module or enclosure. Therefore, when selecting this product, be sure to also select the appropriate DSC module and enclosure.
The DSC digital load cell converter card features
High performance at low cost – resolution to 400,000 counts
Fast, up to 500 updates per second
Calibrate by input high/low or by direct entry of mV/V
Remote shunt calibration by software command or digital input
Multi point linerarization
Temperature sensor input for active temperature compensation
Error reporting including strain gauge fault conditions and overloads