Products ► Instrumentation ► Digital Output Signal Converters ► Model FSU-SSB
Model FSU-SSB
Desktop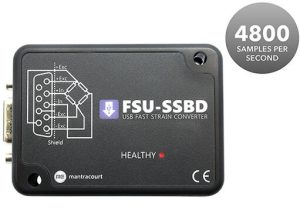 Product features:
Simple USB 'Plug and Measure' device connects directly to a PC, allowing quick setup
High speed measurements at 4800 samples per second
13 bit noise free resolution allows greater accuracy
Ideal for impact, drop, non-rotational torque, vibration and materials testing
Easy connection to intuitive, powerful FSU Toolkit software
Extremely low temperature drift provides accuracy of measurement over a wide temperature range
Simple connection to sensor using 9 way D-type
Input sensitivity of ±3 mV/V making it suitable for most strain bridge sensors – alternative input sensitivities available on request
Works in tension and compression
Drive capability for up to four 350 Ohm sensors
Supplied with micro USB cable
Factory mV/V calibration, user calibration in engineering units
Branded options available
---
Description
The FSU-SSB is a fast, compact, high precision strain bridge input module delivering high resolution readings over USB and communicated directly to a PC. It is aimed at dynamic applications that require high speed measurement.
It delivers high speed measurements of 4800 samples per second at 13 bits noise free resolution.
Simply by plugging the USB strain device into a PC, data can be measured from a sensor using the FSU-SSB for a wide range of high speed systems. This is achieved using the powerful Toolkit software, which has been developed in-house by our design engineers to provide optimised, fast viewing of data.
It allows the viewing of input status and module information, simple switching between engineering units as well as two part calibration, high speed navigation and FFT frequency component analysis. Data can be exported to a CSV file.
This free-standing module is fitted with 9-way 'D' type socket for connection to the strain bridge or load cell while a micro USB socket allows connection to a PC and does not require external power. A DIN rail mounting option is also available.
For lower speed applications, the DSCUSB, which can log up to 100 samples per second, would be a suitable solution.
---
Product video