Products ► Instrumentation ► Analogue Output Signal Conditioners ► Model LVDT OBSOLETE
Model LVDT OBSOLETE
Bulkhead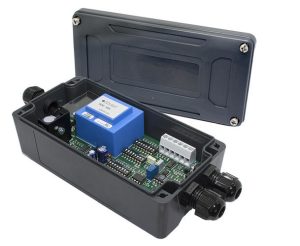 Product features:
LVDT sensor excitation of 4.5 V RMS is provided
Selectable sensitivity from 20 mV to 10 V and fine trim with potentiometer
Analogue outputs of 4-20 mA & 0-10 V
Selectable excitation frequency between 1 and 5 kHz
Wide bandwidth (200 Hz) for test & measurement applications
IP67 ABS bulkhead mountable case with cable glands
---
Description
The model LVDT or RVDT signal conditioner and amplifier provides a convenient and flexible solution to the measurement of displacement or position (linear or angular) when using Linear Variable Differential Transformers or Rotary Variable Differential Transformers (LVDT's or RVDT's).
The analogue amplifier device can be powered from an AC or DC supply, and can provide the excitation needed by the attached transformer.
The excitation frequency can be selected from 5 options between 1 and 5 kHz and the conditioned signal can be output via a bipolar voltage channel or via a current loop channel, both being provided as standard.