Products ► Instrumentation ► Analogue Output Signal Conditioners ► Model SGABCM
Model SGABCM
Bulkhead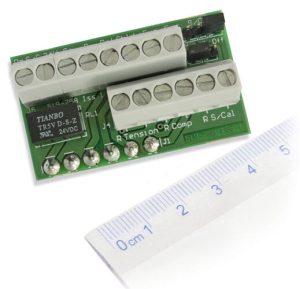 Product features:
Easy installation – simply screws into the existing load cell connector on the SGA
On-board screw terminal connections accept a wide range of bridge completion resistor enabling on-site installation without soldering equipment
High stability resistors (5ppm/°C) fitted for the 'fixed' arms of the bridge
A half bridge strain gauge is simply connected to the BCM module via the screw terminals, no additional components are required
The quarter bridge strain gauge circuit, together with its completion resistor can be wired for compression or tension (stretching) giving a positive output
Small footprint: approximately 53x32mm, screws into existing J2 connector
The SGABCM can be ordered in conjunction with an SGA/A or D or ordered separately for retro-fitting to customers' existing SGAs
Screw terminals are provided for a 'Shunt Calibration' (shunt cal) shunt resistor to be fitted to periodically check the integrity of the strain gauge(s), wiring and calibration
'Remote Shunt Cal' can be performed by energising a miniature 24V relay fitted to the BCM. Multiple SGAs in an installation can be shunt cal'd simultaneously
---
Description
The SGABCM is a retro-fit PCB which facilitates connecting a half or quarter-bridge strain gauge to the SGA Load Cell conditioner. This unit can also be bought in conjunction with an SGA.
The PCB comes with a 5ppm/°C resistor for 350 Ohm bridge completion (both quarter and half) and a shunt cal resistor.
The SGABCM is compatible with all variants of the SGA i.e. SGA/A, SGA/D and SGAs fitted with the IS1224 isolated DC power supply module.