Products ► Instrumentation ► Wireless Telemetry ► Model T24-BSi
Model T24-BSi
Wireless Base Stations (USB, RS232 & RS485)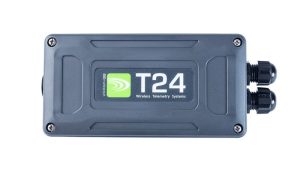 Product features:
Base station with USB, RS232 & RS485 interfaces
Collects data from and configures any T24 radio telemetry module using wireless
Wide range power supply
Wireless range of up to 800 m (2,600 ft)
Integral antenna
Waterproof to IP67
---
Description
The industrial wireless telemetry base station T24-BSi can be used for the configuration of all of the T24 modules which is greatly simplified by the T24 Toolkit software for Windows & supplied free of charge. Data can also be captured by the wireless base station from an unlimited number of T24 transmitter modules & streamed to a PC to function as a radio telemetry data logger.
Click here to view & download associated free software.
The options of USB, RS232 or RS485 interfaces enables this wireless telemetry base station to connect to a wide range of devices such as PCs, PLCs, OEM hardware etc. The internal PCB antenna provides up to 800 m (2,600 ft) range.
For software developers a standard Windows DLL and COM driver are available to enable data collection from T24 transmitter modules.
The licence free 2.4 GHz direct sequence spread spectrum (DSSS) radio telemetry technology offers high integrity, error free communications which can co-exist with other wireless technologies such as Wi-Fi, Bluetooth® and Zigbee®. ETSI, FCC and IC approvals.
*Maximum range achieved in open field site at a height of 3 metres above ground.