Products ► Instrumentation ► Wireless Telemetry ► Model T24-LD1
Model T24-LD1
Wireless Sensor Receivers & Displays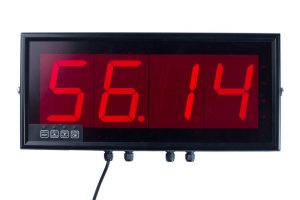 Product features:
T24-LD1 Large screen with four digit LED display
100 mm (4″) character format
Wireless range of up to 800 m (2,600 ft)
Wired logic Inputs allow the user to remotely control tare and net/gross toggle functions
Configured to operate wirelessly using a 2.4 GHz Worldwide Licence exempt radio frequency
Units conversion using output scaling e.g. kgs to lbs
Simple configuration via PC using a base station with telemetry Toolkit software
Suitable for crane or weighing applications
Waterproof to IP65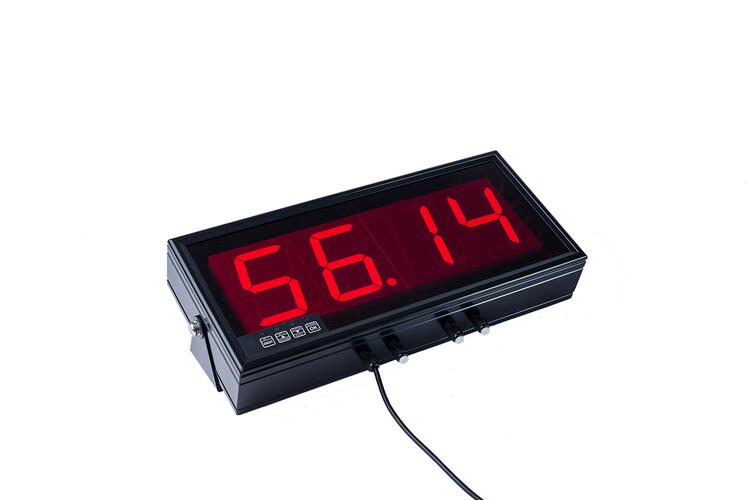 Large LED 4-digit display for long distance viewing applications
---
Description
The T24 wireless telemetry range is a flexible telemetry system designed to provide high accuracy measurement data from a wide range of sensor outputs. To complement the transmitter modules there are devices that allow the building of telemetry systems, these include displays, printers, relay modules, analogue outputs and serial output devices.
Click here to view & download associated free software.
The T24-LD1 is one of several display options within the T24 range. The T24-LD1 provides the user with a large format four-digit display capable of displaying the summed value of up to eight T24 wireless telemetry acquisition devices.
The wireless telemetry large LED display is configured to operate wirelessly using a 2.4 Ghz Worldwide licence exempt radio frequency with a maximum range of up to 800 metres.
The T24-LD1 only requires the connection of a 11-30 VDC power supply (not supplied).
The unit conforms to IP65 / NEMA4.
Using the PC based T24 Toolkit software and T24 USB Base Station the user can quickly and easily select and configure the transmitter devices to be summed on the T24-LD1. The T24 Toolkit also provides advanced user control over the wireless aspects of the system as well as a 'System Zero' function.
Further wired Logic Inputs allow the user to remotely control Tare and Net/Gross toggle functions.
*Maximum range achieved in open field site at a height of 3 metres above ground.