Products ► Instrumentation ► Wireless-Telemetry ► Model T24-SAf
Model T24-SAf
Wireless OEM PCB Transmitters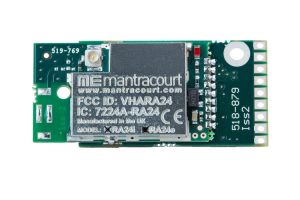 Product features:
Wireless transmitter module for bridge based sensor measurements such as load cells
Ultra fast update rate of 2,000 per second
Miniature PCB for fitting inside sensors
Low power mode
Remote power 'on' and 'off'
Transmits on licence free 2.4 GHz
Simple wireless configuration and calibration
Antenna options giving up to 800 m (2,600 ft) range
---
Description
This OEM wireless 2 KHz strain gauge sensor transmitter provides high speed measurement of strain gauge, pressure, linear displacement and other bridge based sensors including loadcells. The small module size allows for the option of embedding it within the sensor housing.
Click here to view & download associated free software.
Low power modes allow the module to 'power off' completely and can be controlled by other T24 products such as the handheld displays or a base station.
The high speed electronics deliver low drift results which are transmitted at a rate of 2,000 readings per second to other T24 devices such as analog outputs and base stations etc.
Although this module can be used 'as is' for OEM solutions there are a number of enclosure options available.
Integral antenna option offers up to 600 m (1969 ft) range and external antenna options allows up to 800 m (2600 ft) range in an open field site. The T24-SAf is configured using free T24 Toolkit software which runs on a PC connected to a T24 base station.
The licence free 2.4 GHz direct sequence spread spectrum (DSSS) radio technology offers high integrity, error free communications which can co-exist with other wireless technologies such as Wi-Fi, Bluetooth® and Zigbee®. FCC, ETSI and IC approvals.
To view a selection of suitable antennas click here. This pcb is also available in a selection of IP rated enclosures to provide housing and powering. See T24-ACM-SAf, T24-ACMi-SAf, T24-ACMm-SAf.
See the battery life of your wireless sensing system using the Battery Life Calculator.
Module transmits and Receives giving:
1. Full error detection and correction
2. Configuration via radio telemetry
3. Ability to be switched from sleep to operating mode via radio
4. nV/V Calibration stored within the module
5. Remote battery check
*Maximum range achieved in open field site with the T24 acquisition module at a height of 3 metres (9.8 feet) above ground and T24-HS held at chest height pointing towards the acquisition module. Specification at 3V supply at 25°C