Products ► Instrumentation ► Wireless-Telemetry ► Model X24-SAe
Model X24-SAe
Wireless OEM PCB Transmitters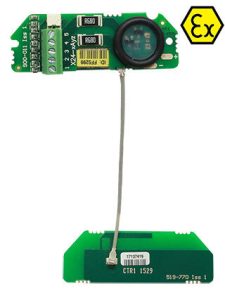 Product features:
Approved for use in explosive atmospheres Zone 1, Zone 2, Zone 21, Zone 22
Facilitates construction of certified load cells and products
800 m (½ mile) range
Long battery life: 2 years at 12 sessions of 5 minutes per day; 30 days continuous
High accuracy, extremely low temperature drift
High resolution ratio-metric/bridge measurement
Up to 1 part in 400,000 (18.75 bits) noise free resolution
Bipolar input, up to ±3.2 mV/V
Calibration and linearisation to engineering units
Capable of driving 4 X 350 R load cells
Up to 200 Hz transmission rates
5 V bridge excitation
Compatible with X24 receiver and T24 receivers
Efficient omnidirectional antenna removes requirement for external enclosure antenna
Environmentally sealed to IP67 in robust enclosure
Operating temperature range of -20 °C to +50 °C
80 mm X 62 mm X 34 mm (Not including cable gland)
Uses readily available Energizer L91 batteries
---
Description
ATEX / IECEx telemetry transmitter module measures strain input and periodically transmits data for receipt by X24 or T24 receivers. PCB module provides OEM sensor manufactures with a quick route to manufacture and supply approved strain bridge sensor products.
This intrinsically safe board is approved for both Gas Zone 1 and 2 and Dust Zones 21 and 22. High accuracy ratio-metric input allows for calibration and linearisation for pressure, torque, force and weight measurement in explosive atmospheres.
The X24-SAe provides 5 V excitation to drive transducer loads down to 85 ohms.
This transmitter is highly accurate, low noise and uses up to nine point linearisation giving quality measurements from a wide range of strain bridge transducers.
The OEM product X24-SAe has component approvals which allow holders of a QAN or a QAR to "fast track" the design and manufacture of their own ATEX/IECEx products through the equipment certification process using a notified body such as BASEFA, CSA group or UL.