Products ► Flow ► Ultrasonic Flow Meters ► Model FLOMIC FL3005
Model FLOMIC FL3005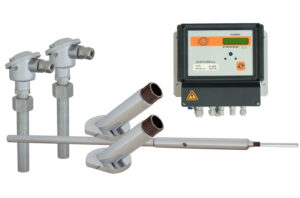 Product features:
Dimension range: DN200 to DN2000 (8″ to 80″)
Single-beam design
Power supply of Li batteries 3.6 V / 19Ah + 2pcs of alkaline batteries 9V, life 4 years
Temperature of the measured liquid from 0°C to 150°C (32°F to 302°F)
Protection of transductors: IP54
Protection of the evaluating electronics: IP65
Nominal pressure PN40 (600 psi)
Period of measurement 1 s
Battery powered, enabling installation in remote locations without electricity
Pulse output passive
---
Description
Ultrasonic flow meter with battery supply measures water flow in fully flooded pipes up to DN2000 (80″), especially in places where it is not possible to connect flow meters to the power supply network. Direct mounting of ultrasonic transductors in pipes. It measures and archives the instantaneous flow and volume of the measured liquid. After assembly, a theoretical calibration is performed.