Products ► Flow ► Ultrasonic Flow Meters ► Model FLOMIC FL3085
Model FLOMIC FL3085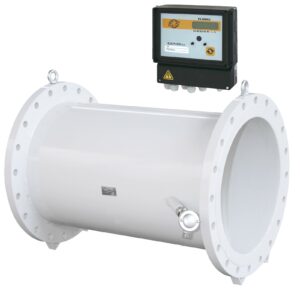 Product features:
Dimension range: DN200 to DN1200 (8″ to 48″)
Single-beam design
Installation in remote locations without electricity
Power supply of Li batteries 3.6 V / 19Ah + 2pcs of alkaline batteries 9V, life 4 years
Protection of transductors: IP54
Protection of the evaluating electronics: IP65
Temperature of the measured liquid from 0°C to 150°C (32°F to 302°F)
Nominal pressure PN10 (150 psi)
Pulse output, passive
---
Description
Utrasonic flow meter with battery supply is designed for measuring water in fully flooded pipes of large dimensions 200mm (8″) to 1200mm (48″) especially in places where, power supply network is not available. It measures and archives the instantaneous flow and the volume of measured conductive and non-conductive liquid in fully flooded piping of large sizes. It is mainly used in water supply network.