Products ► Flow ► Ultrasonic Flow Meters ► Model SONOELIS SE4011
Model SONOELIS SE4011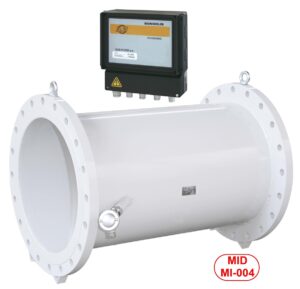 Product features:
Wide range of dimensions: DN200 to DN1200 (8″ to 48″)
Temperature of the measured liquid 0°C to 150°C (32°F to 302°F)
Nominal pressure class: PN10
Economic type of electronics without display
Pulse output
M-Bus communication
Protection: the sensor IP54, the evaluating electronics IP65
Flow meter power supply: 100 to 250V AC, 50 to 60Hz (AC)
Certification MID TCM 142/16 – 5353 for billing measurement of heat and cold energy
---
Description
Ultrasonic flow meter is designed for the measurement systems heat and cold energies in water for pipes DN200 to DN1200 (8″ to 48″). It has pulse output and no display. The advantage of the flow meter is high accuracy and long-term stability of measurement, minimal hydraulic losses and a wide measuring range.