Products ► Flow ► Ultrasonic Flow Meters ► Model SONOELIS SE401x.1 / SE402x.1
Model SONOELIS SE401x.1 / SE402x.1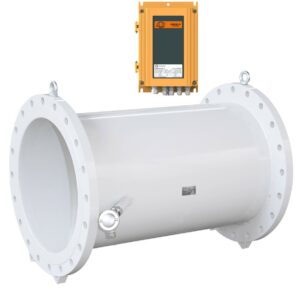 Product features:
Dimension range: DN200 to DN1200 (8″ to 48″)
Two basic designs – single-beam (SE 401x.1) and dual-beam (SE 402x.1)
Two variants of electronics: ECONOMIC (electrical outputs) and COMFORT (display, keyboards, electrical outputs)
Temperature of the measured liquid 0°C to 150°C (32°F to 302°F)
Protection: sensor IP54, electronics: IP66
Power supply: 100 to 250V AC, 50 to 60Hz (AC)
Electrical outputs: pulse, frequency
---
Description
The ultrasonic mains powered flow meter measures the instantaneous flow and the total flow of electrically conductive and non-conductive liquids in fully flooded large pipes up to DN1200 (48″), in hot water and cooling systems.
The flow meter with evaluation electronics located in an aluminum housing is suitable for use in environments with increased electromagnetic interference. The sensor of the ultrasonic mains flow meter SONOELIS SE401x.1, SE402x.1 is single-beam or double-beam, equipped with two or four ultrasonic probes. The flowmeter itself is also equipped with a pulse output, which allows connection to any calorimetric counter with a pulse input. The sensor has minimal hydraulic losses. The flow meter is characterized by long-term stability of accuracy over a wide range of measurements.