Products ► Flow ► Ultrasonic Flow Meters ► Model SONOELIS SE401x / SE402x
Model SONOELIS SE401x / SE402x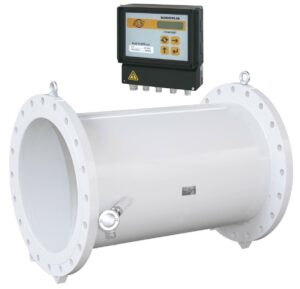 Product features:
Dimension range: DN200 to DN1200 (8″ to 48″)
Two basic designs – single-beam (SE 401x) and dual-beam (SE 402x)
Three different variants of electronics: ECONOMIC (electrical outputs), STANDARD (display, electrical outputs), COMFORT (display, keyboard, electrical outputs)
Temperature of the measured liquid 0°C to 150°C (32°F to 302°F)
Power supply: 100 to 250V AC, 50 to 60Hz (AC)
Electrical outputs: pulse, frequency
---
Description
One or two-beam ultrasonic flow meters with power supply designed for industrial flow measurement of electrically conductive and non-conductive or aggressive liquids from DN200 to DN1200 (8″ to 48″). The advantages are high accuracy and long-term stability of flow measurement, minimal hydraulic losses and a wide measuring range. The flowmeters are equipped with RS485 / MOBUS RTU communication interface.