Products ► Flow ► Ultrasonic Flow Meters ► Model SONOELIS SE804x.x / SE806x.x
Model SONOELIS SE804x.x / SE806x.x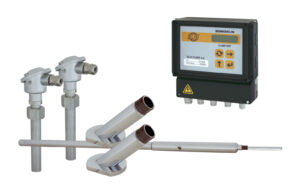 Product features:
Possibility of direct installation of ultrasonic probes on existing pipelines, reduced total financial costs for the implementation of the measured site
Dimension range: DN200 to DN1200 (8″ to 48″)
Two basic designs – single-beam (SE804x.x) and dual-beam (SE806x.x)
Two variants of the evaluating electronics: COMFORT (display, keyboard, electrical outputs) or ECONOMIC (electrical outputs)
Temperature of the measured liquid 0°C to 150°C (32°F to 302°F)
Protection of transductors: IP54
Outputs: pulse, frequency 
Power supply: 100 to 250V AC, 50 to 60 Hz
---
Description
One and dual-beam ultrasonic flowmeters with mains power supply are intended for a direct transductors installation into existing piping DN200 to DN1200 / 8″ to 48″. It measures the instantaneous flow and the volume of liquid in fully flooded large pipes. After installation, theoretical calibration is performed.