Products ► Instrumentation ► Analogue Output Signal Conditioners / Controllers & Alarms ► Model LCD20
Model LCD20
DIN Rail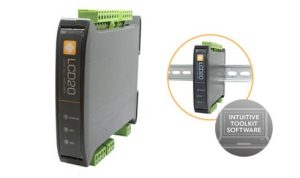 Product features:
Intelligent, compact, stackable microprocessor based load cell amplifier for smarter automation and process control
Fully isolated standard analogue outputs 4-20mA and 0-10V
Full digital setup & easy programming via USB connection to a PC using intuitive toolkit software
Increased functionality with 2 single pole relays & digital inputs
10 point linearization, providing superior accuracy
6 wire load cell connection to compensate for barrier and cable losses
Lockable features prevents loss of device settings through user misuse
Configuration can be save and restored for security of setup
---
Description
Our intelligent strain gauge bridge amplifier (LCD20) is a compact, stackable microprocessor based unit specifically designed to control and monitor process applications. Flexible connection to most load cells, pressure or strain gauges over a wide range of sensitivities.
The load cell amplifier (LCD20) provides isolated current 4-20mA and voltage 0-10V analogue outputs and two digital inputs. Two set point relays can be configured to set thresholds such as net, gross, peak and valley. Powered from a wide ranging DC supply, the DIN rail amplifier is supplied with 2 part screw connectors for ease of installation.
Suitable for strain gauges and other ratio-metric sensors and will support 6 wire input to compensate for barrier and cable losses. Factory calibrated to mV/V and supporting 10 point user calibration to desired engineering units. Configuration options via handheld programmer or PC Toolkit software.
The analogue outputs and relays interface to existing acquisition and control systems making this unit an ideal partner for any integrated instrumentation system.
The LCD20 load cell amplifier can be used in conjunction with our LCI load cell failure alarm, which is designed to continuously monitor the condition of individual load cells and activate an alarm when faults in the system are detected, therefore providing increased safety and cost savings onsite for all weighing systems.