Products ► Material Testing ► Force ► Force Gauges ► Model VFG
Model VFG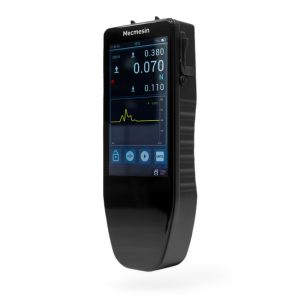 Product features:
Measuring range (10 models): 2.5 – 2500 N
Accuracy: ≤ ± 0.10 % FS
Units of measurement: mN, N, kN, gf, kgf, ozf, lbf
Resolution: 1:50.000
Sampling rate: 5.000.000 Hz
Overload rating: 150% of full scale
On-board/built-in memory: 8 MB (approx. 500 stored readings)
Expandable memory: Up to 32 GB (via SDHC card)
---
Description
The VFG is our most powerful digital force gauge, packed full with innovative features and an intuitive touchscreen interface making it easy to navigate for all users.
Vector OS software is at the heart of the VFG enabling operators to configure the gauge to their requirements, analyse test results quickly in the field, and customise the touchscreen interface.
Available in 10 models with capacities ranging from 2.5 to 2500 N (0.5 to 550 lbf), the VFG caters for a diverse range of industrial applications.
All models are highly accurate to ±0.1% of full-scale with readings displayed in all common measurement units; N, kN, mN, gf, kgf, lbf and ozf.
---
Product video