Products ► Material Testing ► Force / Torque ► Force Gauges / Torque Gauges ► Model VFTI
Model VFTI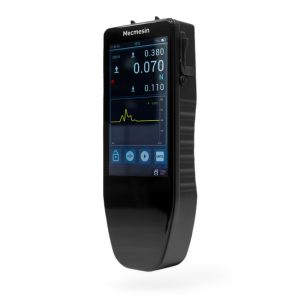 Product features:
Units of measurement can be displayed in:
Torque – N.m, mN.m, cN.m, daN.m, kgf.cm, gf.cm, lbf.in, lbf.ft, ozf.in
Force – N, mN, cN, daN, kN, kgf, gf, lbf, ozf
Sampling rate: 20.000 Hz
On-board/built-in memory: 8 MB (approx. 500 stored readings)
Expandable memory: Up to 32 GB (via SDHC card)
---
Description
A powerful and versatile touchscreen display unit for use with Mecmesin's 'Smart' range of interchangeable force and torque sensors. Ideal for testing where high accuracy and flexibility are key requirements.
The VFTI, powered by Vector OS, instantly recognises the connected sensor and can be employed as a handheld device for testing on the move or it can be integrated into your own test rig as the core measurement device.
---
Product video