NEWS
WAFER FLOW METER

Induction flow meters FLONET FS10XX
Induction flow meters of the type series FLONET FS10XX are intended for professional flow-rate measurements of electrically conductive fluids including abrasive particles. The meters meet most demanding requirements regarding measurement accuracy and long-term parameter stability. Flow-rate measurements in both directions are possible. The flow sensors have excellent wear resistance and its effect on the fluid flow characteristic or pressure in the connecting piping is negligible. The associated electronic unit supplies power to the sensors unit and processes the flow-rate signals. The meters have current and frequency outputs. Communication with external devices is via the Hart communication protocol.
LEVEL INDICATOR

ITA Magnetic Level Gauge
The ITA level indicators offers a reliable, accident-free and maintenance-free usage through a simple and break-resistant construction at a maximum process pressure of 320 bar and a temperature range from -200 °C through 400 °C. The fluid level is indicated directly with a separation of the measurement and indication area. The magnetic transfer of the fluid level from the tank to the indicator is continuous and vibration- resistant, even in the case of fast changing levels.
PRESSURE TRANSMITTER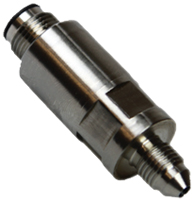 ATM.1ST Mini – High precision pressure sensor
ATM 1ST mini is a small sensor with outstanding performance. It offers an accuracy of ≤± 0.25% FS including linearity, hysteresis, repeatability, zero and span setting errors.Total error band for temperature range from -40…125°C is <± 1%. Output signal analog or CANbus.
High precision pressure sensor over the whole temperature range
Electronic compensation
Short response time 1 ms
Accuracy: ≤ ± 0.25
Operating temperature: -40…125 °C
Process temperature: -40…150 °C
Output signal: 0.5…4.5VDC, CANbus
Total Error Band: ≤ ± 0.30 %FS (0…70 °C)
Materials: Stainless steel
Dimension: Ø17.5 x 48 mm
TORSION SENSOR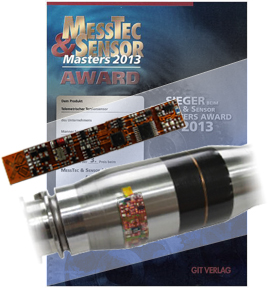 Telemetric torsion sensor
The award winning Manner space saving telemetric torsion sensor is a strain gauge with integrated amplifier and telemetry interface (Strain gauges are known for their precision and flexibility). It can easily be affixed on a shaft like a normal strain gauge and no soldering is needed, this saves labour time and thus money. The system is completed with a contactless pickup and receiver which delivers power to the telemetric sensor too.
NOESIS OCS
Motivation to be innovative
Each digital product, be it a digital or programmable sensor, a data logger or a communication module, has its own unique electro-mechanical assembly. These products communicate through proprietary interfaces and protocols. At the end of the day, proprietary software was produced for each product. Technical requirements rose and existing products are no longer able to meet these more demanding requirements. Based on the three STS commitments, Development, Communication and Simplification, a new digital platform was to be created, one which not only encompass the technical requirements but which would also, through its modular design concept, provide the user with flexibility and freedom.
Concept and key ideas
The easiest way to connect sensors with the world of IT is through the integration of a PC into a sensor. To use the entire universe of the world of IT a complete PC based on Debian GNU/Linux under the restrictions of the extended operating temperature range and the battery power has been developed and miniaturized. Another key idea was the decision to set up a browser-based software and to emulate all the hardware (miniaturized PC) in form of a virtual machine QEMU (Quick Emulator).
NOESIS from STS combines the universe of sensor technology with your smartphone, tablet or desktop. Using standard interfaces and existing internet infrastructure, it couldn't be easier to send measurement data directly to your mobile phone and computer.