Products ► Flow ► Electromagnetic Flow Meters ► Model FLONET FF50xx
Model FLONET FF50xx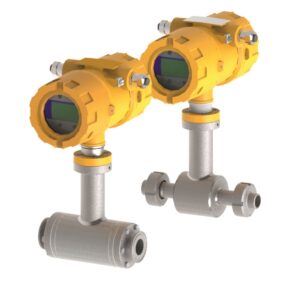 Product features:
Wide range of dimensions: DN10 to DN100 (1/2″ to 4″)
Ability to measure in demanding applications with measuring range up to R = 400
Bidirectional measurement with direction indication
Possibility of compact or remote version and IP68 protection
Temperature of the measured liquid up to 150°C (302°F)
The flow meter does not contain any moving parts in the flow sensor and thus has minimal hydraulic losses
Using of special connection Clover (ASME BPE), or screw fittings for food-processing applications (DIN 11851)
PTFE sensor lining and Hastelloy-C4 (on special requirement platinum or tantalum) electrodes
Selection of a required electrical supply and electrical outputs
Detection of empty pipeline
Self-diagnostics and high reliability
RS485/MODBUS RTU communication line
---
Description
Electromagnetic flow meters are designed to measure the flow of electrically conductive liquids. The measured data can be transferred to a control room using the communication interface RS485/MODBUS RTU. Thanks to its measuring accuracy, wide measuring range, hygienic safety, long-term quality and stability, this new type of electromagnetic flow meter FLONET FF50xx belongs to the comparable products of world brands.