Products ► Force / Weight ► Weighing Systems ► Model ZW 5.0
Model ZW 5.0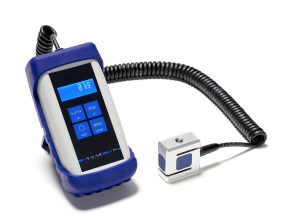 Product features:
Factory calibrated
For tensile and compression applications
Nominal load range: 500, 1000, 2000, 3000, 5000N
Accuracy ± 0.25% from ultimate value
Maximum and minimal value memory
Tare
Battery operation
No signal output
---
Description
This force gauge is available in load ranges from 500 to 5000N. It consists of two components: a shear force load cell as a transducer and a hand terminal connected by a cable. The compact size of the transducer makes the ZW 5.0 ideally suitable for use in conditions where space is restricted. The transducer can be adapted with spherical rod ends and eyebolts. Other forms of force introduction are possible directly via the two mounting threads on the shear force load cell. Simple control is possible using the hand terminal on which measured values are displayed.
This force gauge can also be calibrated in kg and used as a hanging scale.
---
Application:
Weighing in industrial and agricultural applications
Force measurement in sport or the rehabilitation sector