Products ► Material Testing ► Torque ► Torque Gauges ► Model Alluris TTT-300
Model Alluris TTT-300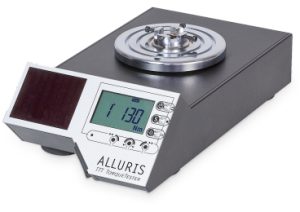 Product features:
Measuring range (5 models): 0.2 – 2 N.m, 0.5 – 5 N.m, 1 – 10 N.m, 2.5 – 25 N.m and 5 – 50 N.m
Accuracy: ≤ ± 0.5 % FS
Acquisition rate: 1000 times per second
Rating: IP42 (Protected against dripping water)
Output: via. USB 2.0 Interface
Supplied with (standard): TTT300 Torque Tool Tester c/w 3/8″ female socket, adapters for 3/8″ and 1/4″ male square, adapters for 5/16″, 1/4″ and 5/32″ female hex, USB interface cable, CD-ROM with TTT_Certify software, quickstart operation manual
---
Description
The TTT-300 range features portable torque testers designed for measuring the click torque and maximum torque values of indicating and setting torque tools.
5 different models are available with capacities from 2 N.m to 50N.m making them ideal for quick and easy verification of torque wrenches, torque screwdrivers and motorised torque tools right at their point-of-use.
The TTT_Certify software is included as standard, enabling the tester to be used for the calibration of torque tools according to the requirements of ISO 6789.