Products ► Material Testing ► Torque ► Test Machines ► Model Vortex-dV
Model Vortex-dV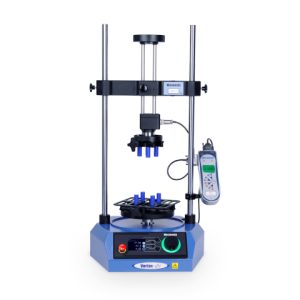 Product features:
Measuring range (4 models): 1.5 – 10 N.m
Load- accuracy: ≤ ±0.5% FS
Load- resolution: 1:5000
Units of measurement: mN.m, N.cm, N.m, kgf.cm, gf.cm, ozf.in, lbf.in, lbf.ft
Speed- range: 0.1 – 30 rev/min (clockwise or counter-clockwise)
Speed- accuracy: ≤ ±1% of indicated speed
Speed- resolution: 0.01 rev/min
Angle- max. displacement: 8.000 revs
Angle- accuracy: ±0.2° per 36,000°
Angle- resolution: 0.001 revs (0.001 revs)
---
Description
The Vortex-dV is a versatile, robust, stand-alone torque tester, rated to 10 N.m. Easy to use, it is suited for routine quality control checks in a production or lab environment.
Configure this motor-driven stand with a torque sensor connected to a display unit, a choice of gripping fixtures, and optional software.
---
Product video