Products ► Flow ► Ultrasonic Flow Meters ► Model FLOMIC FL5034F
Model FLOMIC FL5034F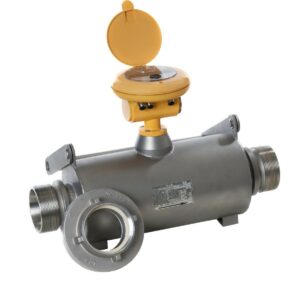 Product features:
For dimensions DN65, DN80 and DN100 (2 1/2″, 3″ and 4″)
It checks and measures the total flow volume and instantaneous flow
All-stainless steel design with a special threaded connection for fire hoses and a holder for carrying in the field
Temperature: 50°C (122°F)
Pressure: PN16 (150 psi)
Protection: IP68
Period of measurement: 1 s
Power supply of Li battery 3.6 V/19Ah with a lifetime of 8 years in standard meter version
Pulse output passive
---
Description
For measuring of instantaneous flow, volume and water pressure. FLOMIC FL5034F has been specially developed for inspections and revisions of fire hydrants. It measures and archives the instantaneous flow, the, volume and the instantaneous pressure of the measured water.