Products ► Force / Weight ► Wheel Load Scales ► Model RW 8.1 & RWF 8.1.0
Model RW 8.1 & RWF 8.1.0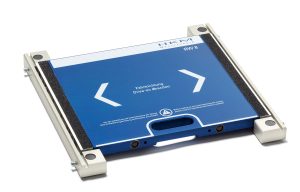 Product features:
Factory calibrated
Low design
Load range 1.000, 2.000 and 8.000kg
High accuracy
Via cable or radio transmission
Rubber feet to prevent slipping during mounting
Optionally available with ramps
---
Description
Our portable wheel scales RW 8.1, RWF 8.1.0 are used for precise weighing of private cars, heavy goods vehicles, caravans, trailers and other single and multiple-axle vehicles. We can provide you with wheel load scale software which can display, log and store measured values on the PC. Wheel load scales are easy to transport, set up and operate.
With type RW 8.1 the data is transmitted via cable, with type RWF 8.1.0 via radio.
---
Application:
Car weighing
Aircraft weighing
Column load determination for cranes