Products ► Force / Weight ► Wheel Load Scales ► Model RW 9.1 & RWF 9.1.0
Model RW 9.1 & RWF 9.1.0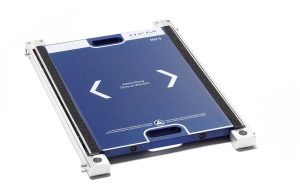 Product features:
Factory calibrated
Low design
Nominal load up to 10.000kg
High accuracy
Via cable or radio transmission
Rubber feet to prevent slipping during mounting
Optionally available with ramps
---
Description
The wheel load scales type RW 9.1, RWF 9.1.0 are designed for weighing heavy vehicles with large wheels. The effective weighing surface is 600mm x 400mm. The scales are therefore big enough for trucks with twin wheels to drive onto without difficulty.
We can provide you with wheel load scale software which can display, log and store the measured values of up to 20 weighing platforms on the PC.
These truck scales are also suitable for mobile use and can be combined with other wheel load scales. Integrated rollers and hand grips make it easy for you to align the weighing platforms.
With type RW 9.1 the data is transmitted via cable, with type RWF 9.1.0 via radio.
---
Application:
Weighing of trucks, heavy-duty and special vehicles
Exit control in haulage firms
Weighing in agricultural applications
Aircraft weighing