Products ► Instrumentation ► Digital Output Signal Converters ► Model DSC
Model DSC
Embedded & PCB Modules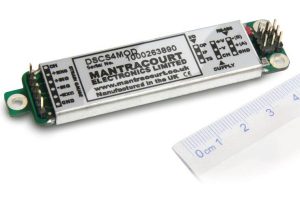 Product features:
Strain gauge to RS232, RS485 or CAN digital load cell conditioning card
OEM PCB format for easy fitting to products
Ultra high performance, resolution of 1 part in 200,000 (18bit)
High speed, up to 500 updates per second
Auto calibration or direct entry of mV/V with linearisation
Programmable dynamic filter
Temperature compensation
Error reporting including strain gauge fault conditions and overloads
Peak and trough (valley) recording
Remote shunt calibration by software command or digital input
Free software enabling 24 DSC or DCells to be viewed and logged simultaneously
– see more here
---
Description
The digital load cell converter module is designed for use with strain gauge sensors such as pressure transducers, load cells and torque sensors, the DSC offers high speed, high precision strain gauge signal conversion capabilities with linearization and temperature compensation of the sensor .
The DSC, digital load cell converter output formats include RS232, RS485, CAN, ASCII, Modbus, MantraCAN (J1939).
For mounting internal to the sensor, the same electronics is also available in a compact miniature format – see DCell.
The digital load cell converter has the option of being housed in a convenient IP65 enclosure, or for multiple load cell installations, refer to models DSJ1 display & junction box for a single digital load cell for 1 channel, and DSJ4 for 4 channel.
Try our ready to go Evaluation Kit which includes one free DSC or DCell.