Products ► Instrumentation ► Controllers & Alarms ► Model LCA20
Model LCA20
Bulkhead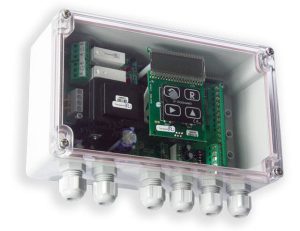 Product features:
Full digital set–up using PC or keypad
3 x configurable digital inputs e.g. for autotare, peak hold and reset
RS485 and RS232 digital data output for communications and printing
Measurement speeds of 10 / 80 samples per sec
Factory calibration in mV/V
5 V excitation supports up to 10 x 350 R load cells
Fully isolated 4-20 mA and 0-10 V analogue outputs
6 wire input to compensate for barrier and cable losses
2 set points SPCO relay outputs
Sensitivity from 0.5 to 7.8 mV/V
10 pt linearization
Firmware now supports Mantrabus 1 & 2, MANTRA ASCII 2 & MODBUS RTU
ROHS Compliant & Environmentally sealed to IP65 / NEMA 4 enclosure dimensions 200 x 120 x 75 mm
Supplied in IP65 NEMA4 ABS protected case, stainless steel version or DIN Rail option. See also LCB option
The LCA20 shown in main photo has the transparent lid option (LTL)
---
Description
This very flexible digital load cell amplifier for weighing single or multiple load cell applications, offers an easy one-pass calibration and fast setup. It is also equipped with relays, data port and display.
The LCA20 load cell weight indicator offers options of local or remote LCD displays, isolated 4-20 mA 0-10 V analogue outputs, relay outputs for control or alarm functions, for example, in crane overhead alarms, and also for, in-flight compensation commonly used in silo bag filling applications. The RS232 or RS485 options provide for digital communications (including setup) and can support label or ticket printers.
Analogue and digital output, set point and display capabilities AC or DC powered, IP65 NEMA 4 protected.
The LCA20 (load cell amplifier) replaces the LCA15 and provides increased functionality, improved performance and takes advantage of new technology.
IP65 bulkhead mounting ABS case – also available as a DIN rail or PCB module – model LCB-20
For a PCB module version, see model LCB20 load cell amplifier and digitiser.
Can be used in conjunction with the LCI load cell failure alarm, which is designed to continuously monitor the condition of individual load cells and activate an alarm when faults in the system are detected, therefore providing increased safety and cost savings onsite for all weighing systems.
---
Product video