Products ► Instrumentation ► Controllers & Alarms ► Model LCB20
Model LCB20
DIN Rail & PCB Modules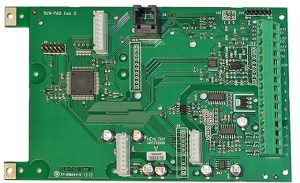 Product features:
PCB version of the load cell amplifier display for weighing (LCA20)
Simple auto calibration
5 V excitation supporting up to 10 x load cells (350 R)
0.5 to to 7.8 mV/V sensitivity
6 wire input to compensate for barrier and cable losses
Full digital set-up and calibration using keypad or PC
Fully isolated analogue outputs 4-20 mA & 0-10 V
10 pt linearization
Three x configurable digital inputs
Relay outputs:2 setpoints SPCO
RS485 RS232 digital data output for communications and printing
Supports MODBUS RTU, ASCII & MANTRABUS
PCB mounting options include with case or DIN rail mounted
The LCB20 also has the option of a stainless steel case
---
Description
This load cell amplifier and digitiser PCB OEM has undergone a performance and functionality update. It superceeds the LCB PCB, the footprint is the same and it fits neatly into the same size enclosures as before.
The LCB20 is a very flexible digital signal conditioning amplifier for single or multiple load cell applications, offering very easy one-pass calibration and fast setup.
This versatile load cell indicator offers options of local or remote LCD displays, isolated analogue outputs, latching relays or digital outputs for control or weight alarm functions and in-flight compensation for filling applications.
The LCB20 has RS232 or RS485 options, which provide for digital communications (including setup) and can support label or ticket printers.
For a bulkhead cased version of the load cell amplifier and digitiser PCB see model LCA20 load cell amplifier display for weighing.