Products ► Instrumentation ► Wireless Telemetry ► Model T24-BSd
Model T24-BSd
Wireless Base Stations (USB, RS232 & RS485)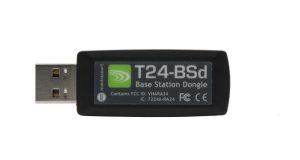 Product features:
Provides wireless data from T24 transmitter modules
Up to 500 m (1,600 ft) wireless range
Configures any T24 Telemetry module via USB
Portable device which is designed for laptops and tablets
Ideal for portable logging using 100 Channel logging and viewing software
IP50 rated enclosure dimensions 45 x 19 x 11 mm
---
Description
The T24 wireless telemetry dongle base station (T24-BSd) is the smallest in our base station range and enables you to connect to the wireless telemetry moduels at a line of sight range of up to 500 metres.
It provides a portable solution with no wiring that makes it ideally suited for laptops and tablets that run a full version of Windows.
It draws power from the USB bus and therefore no further components are required to configure and control remote devices from a PC. It is offered as an alternative to the T24-BSue base station which provides up to 800 m range.