Products ► Instrumentation ► Wireless Telemetry ► Model T24-PR1
Model T24-PR1
Wireless Output Modules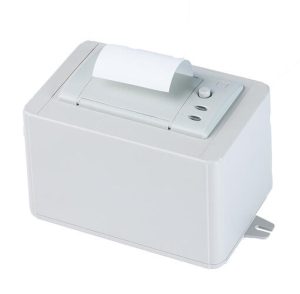 Product features:
Wireless telemetry thermal printer T24-PR1
Prints data from up to 8 transmitters or a handheld module
User definable printed report page & surface mounting enclosure
Surface mounting enclosure
Simple wireless configuration
Internal antenna delivers up to 800 m (2,600 ft) range
---
Description
This wireless telemetry printer will generate a user designed report which can contain values from up to 8 x T24 transmitters and optionally sum them. This module has proved ideal for generating receipts and reports from various wireless weighing applications.
Click here to view & download associated free software.
Printing can be triggered by a button press or the arrival of specific data from an acquisition module or a handheld display module. The power supply requirements make this module ideal for in-vehicle mounting.
The licence free 2.4GHz direct sequence spread spectrum (DSSS) radio technology offers high integrity, error free communications which can co-exist with other wireless technologies such as Wi-Fi, Bluetooth® and Zigbee®. ETSI, FCC and IC approvals.
The T24-PR1 module is configured using free T24 Toolkit software which runs on a PC connected to a T24 base station.
Internal antenna offers up to 800 m (2,600 ft) range in an open field site.
*Maximum range achieved in open field site at height of 3 metres (9.8 feet) above ground.