Products ► Instrumentation ► Wireless Telemetry ► Model X24-ACMi-SA
Model X24-ACMi-SA
Wireless Sensor Transmitter Enclosures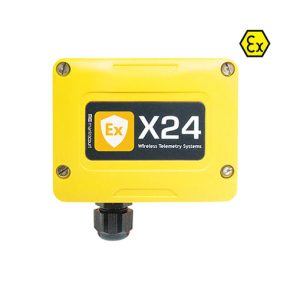 Product features:
Approved for use in explosive atmospheres Zone 1, Zone 2
800 m (½ mile) range
Long battery life: 2 years at 12 sessions of 5 minutes per day; 30 days continuous
High accuracy, extremely low temperature drift
High resolution ratio-metric/bridge measurement
Up to 1 part in 400,000 (18.75 bits) noise free resolution
Bipolar input, up to ±3.2 mV/V
Calibration and linearisation to engineering units
Capable of driving 4 X 350 R load cells
Up to 200 Hz transmission rates
5 V bridge excitation
Compatible with X24 receiver and T24 receivers
OEM option available with X24-SAe module
Efficient omnidirectional antenna removes requirement for external enclosure antenna
Environmentally sealed to IP67 in robust enclosure
Operating temperature range of -20 °C to +50 °C
80 mm X 62 mm X 34 mm (Not including cable gland)
Uses readily available Energizer L91 batteries
---
Description
ATEX / IECEx telemetry transmitter module measures strain input and periodically transmits data for receipt by X24 or T24 receivers.
High accuracy ratio-metric input allows for calibration and linearisation for pressure, force, torque and weight measurement in explosive atmospheres.
Housed in an environmentally sealed IP67 enclosure with battery holder for two Lithium Energiser L91 AA batteries.
This flexible transmitter supports a wide range of bridge sensors and is ideal for places that are difficult for a wired connection.