Products ► Material Testing ► Torque ► Torque Gauges ► Model VTG Tornado
Model VTG Tornado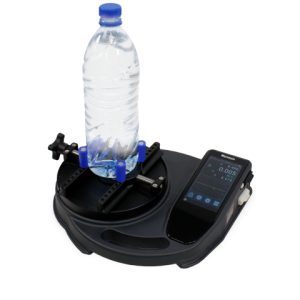 Product features:
Measuring range (4 models): 1.5 N.m – 10 N.m
Accuracy: ≤ ± 0.5 % FS
Units of measurement: mN.m, N.cm, N.m, gf.cm, kgf.cm, kgf.m, ozf.in, lbf.in, lbf.ft
Resolution: 1:50.000
Sampling Rate: 5,000,000 Hz
Overload Rating: 150% of full scale
Rating: IP54
---
Description
The VTG Tornado touchscreen torque tester is portable and rated to IP54 for testing the applied and release torque of a diverse range of products.
Measures up to 10 N.m (90 lbf.in) to capture opening and closing torque of caps/closures intended to be opened by hand.
Record peak readings with a much greater accuracy than analogue torque meters and plot the graph to identify when the bridges of a tamper-evident band are broken. Reach new heights with a simple and cost-effective solution for torque applications.
---
Product video