Products ► Flow ► Ultrasonic Flow Meters ► Model SONOELIS SE4041
Model SONOELIS SE4041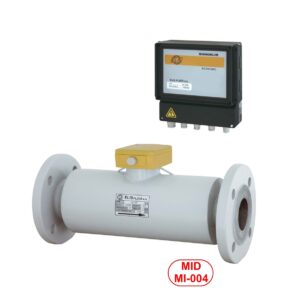 Product features:
Dimension range: DN32 to DN300 (1 1/2″ to 12″)
Remote ECONOMIC design (without display and keyboard)
Temperature of the measured liquid 0°C to 150°C (32°F to 302°F)
Pulse output
MID TCM 142/16 – 5353 certification for billing measurement of heat and cold energy
---
Description
The ultrasonic mains powered flow meter is designed for measuring of water in closed heat and cold measurement systems in pipes from DN32 to DN300 (1 1/2″ to 12″). It has no display and it is equipped with a pulse output. Advantages are high accuracy over a wide measuring range, long-term stability, minimal hydraulic losses and the possibility of measuring the flow of almost any liquid medium. The evaluation electronics are equipped with a pulse output, which allows connection to any calorimetric unit with a pulse input.