Products ► Torque ► Advanced Torque Sensors ► Torque Measuring Shafts
Torque Measuring Shafts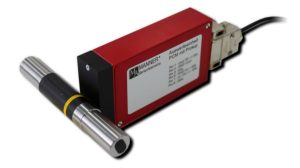 The Alternative to Mounted Sensors or Flange Solutions!
The classic torque shaft for test bench measuring tasks has many disadvantages compared to bearingless measuring shafts. The classical measuring shaft is usually supported by bearings and may even be constructed with slip rings. Due to the necessary bearings, wear and a force shunt is automatically included. It also requires a bearing block and corresponding couplings that are flexible on both sides. In addition, the noise of the bearings is disturbing in certain test applications. In addition, the entire test rig design can be made more compact. This is also the reason why the mounted measuring shaft was replaced by bearingless solutions in the automotive test fields.
The basic accuracy of the measuring shafts is better than 0.05 %. This is not possible with a bearing-mounted measuring shaft. We also offer an optional integrated speed measurement.
Couplings and bearings are problematic at high speeds. The selection of a suitable coupling taking into account the shaft dynamics requires special knowledge. Many test stand builders have despaired of shaft vibrations on the wrong couplings. The bearingless measuring shaft can be used up to 150,000 rpm.
MANNER Sensortelemetrie has developed special short-designed bearingless torque transducers from 1 Nm to 1 kNm to solve test bench applications. Characteristic features are the extremely low moment of inertia, the high-speed stability and the simple integration into the shaft train. The connection to the shaft train is made via inexpensive Lenze clamping couplings or via a bellows coupling. All torque acquisition systems are characterized by the contactless transmission of the torque signal using the patented sensor telemetry method.
The torque signal is obtained using strain gauges. A high-precision, remotely programmable measuring amplifier on the shaft amplifies, conditions and digitizes the measured value with 16 bit resolution. The non-contact transmission is characterized by an antenna gap of up to 10 m. Mounting is therefore absolutely unproblematic in radial and axial direction. The torque data can be output analog or digital via CAN, EtherCAT, Ethernet or USB.