Products ► Instrumentation ► Analogue Output Signal Conditioners ► Model ICA5ATEX
Model ICA5ATEX
Embedded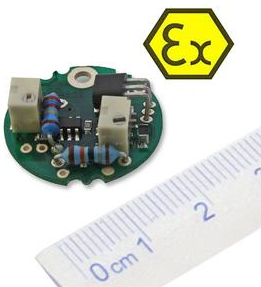 Product features:
ATEX certificated amplifier for hazardous zones 0, 1 & 2
Miniature PCB format for fitting inside sensors, 19 mm diameter, 7.6 mm height
2 wire current loop 4-20 mA output
Low interaction between the trimmers makes calibration fast and easy
High speed 1000 Hz
User selectable span and zero resistors
Robust design, high noise immunity & reverse polarity protected
---
Description
The ICA5ATEX is a high performance ATEX certified miniature strain gauge/load cell amplifier designed for operation within Hazardous Zones 0, 1 & 2. It is the ideal option for OEM customers wishing to embed the ATEX amplifier within the sensor.
The high performance amplifier provides 2-wire 4-20 mA current loop output and connects in-line for a range of signal conditioning for strain gauges, load cells, pressure and torque transducers. Intrinsically safe to EN60079-11 (previously EN 50020) standards.
Designed for fitting in-line to strain gauge sensors such as load cells, the amplifier can be housed within a stainless steel IP67 NEMA 4 EMC protected enclosure, such as the ALA5 which is supplied with 1 m strain gauge cable and 5 m output cable.
Please note: the ICA5ATEX is approved for incorporation into load cells and other enclosures.